Loading
Out of Stock
Women's Real Leather Stiletto Heel Closed Toe Pumps With Rhinestone Crystal Heel
#46172
Wedding Shoes
+
* Expedited Shipping: 3-6 Days
* Standard Shipping: 5-8 Days

* Expedited Shipping: 3-6 days
* Standard Shipping: 5-8 days
* Super Saver Shipping: 10-15 days
Processing Time:

7-8

days
+
Delivery Time: 3-6 Days * Expedited Shipping: 3-6 Days
* Standard Shipping: 5-8 Days
* Expedited Shipping: 3-6 days
* Standard Shipping: 5-8 days
* Super Saver Shipping: 10-15 days
Description
Founded in 2007, JJ's House is the global leading online retailer for wedding gowns, special event dresses, wedding party dresses, fashion dresses and accessories. Customers can browse the vast online selection and choose their favorite dresses with great satisfaction.
| | | | |
| --- | --- | --- | --- |
| Product Code | #46172 | Gender | Women's |
| Shoes Style | Closed Toe, Pumps | Size | 35, 36, 37, 38, 39, 40 |
| Heel Type | Stiletto Heel | Actual Heel Height | 5.51 inch (14cm) |
| Actual Platform Height | 0.98 inch (2.5cm) | Upper Materials | Real Leather |
| Lining Materials | real leather | Outsole Materials | Rubber |
| Embellishment | Rhinestone, Crystal Heel | Season | Fall, Spring, Summer, Winter |
Best Selling Items
RECOMMENDATIONS
Product Reviews
Write a review
Shews.pidd
2017-04-11 13:56:53
These shoes look exactly like the image shown. I was skeptical at first, but they shipped in a nice box with padding and inside its own bag with extra gems. They fit really well and are comfortable (considering the heel/platform), true to size, the gems around the top are a little lose due to wearing them. The only suggestion i have is to E6000 the edge so the gems don't pop off. They are perfect now!

Ice-creamhead
2015-10-27 01:12:32
Really excellent! Fast delivery and shoes just stunning amazing looking and VEEERY accurate made. Women and even men at my wedding were amazed. Of course it's pretty high and difficult to spend whole evening with such shoes (feet are suffering :D) but we ordered them just for photoset and I weared them in the restaurant(second pair of comfy must have at the wedding), besides it's also cool to have such shoes in the collection. By the way I got shoes and some additional elements with special glue (might in a case if something will spoil, but every glitter and bead really looking good fit) and also some inlays for feet what was very nice(on the picture my inlays). Thanks a lot!!! Highly recommend!!!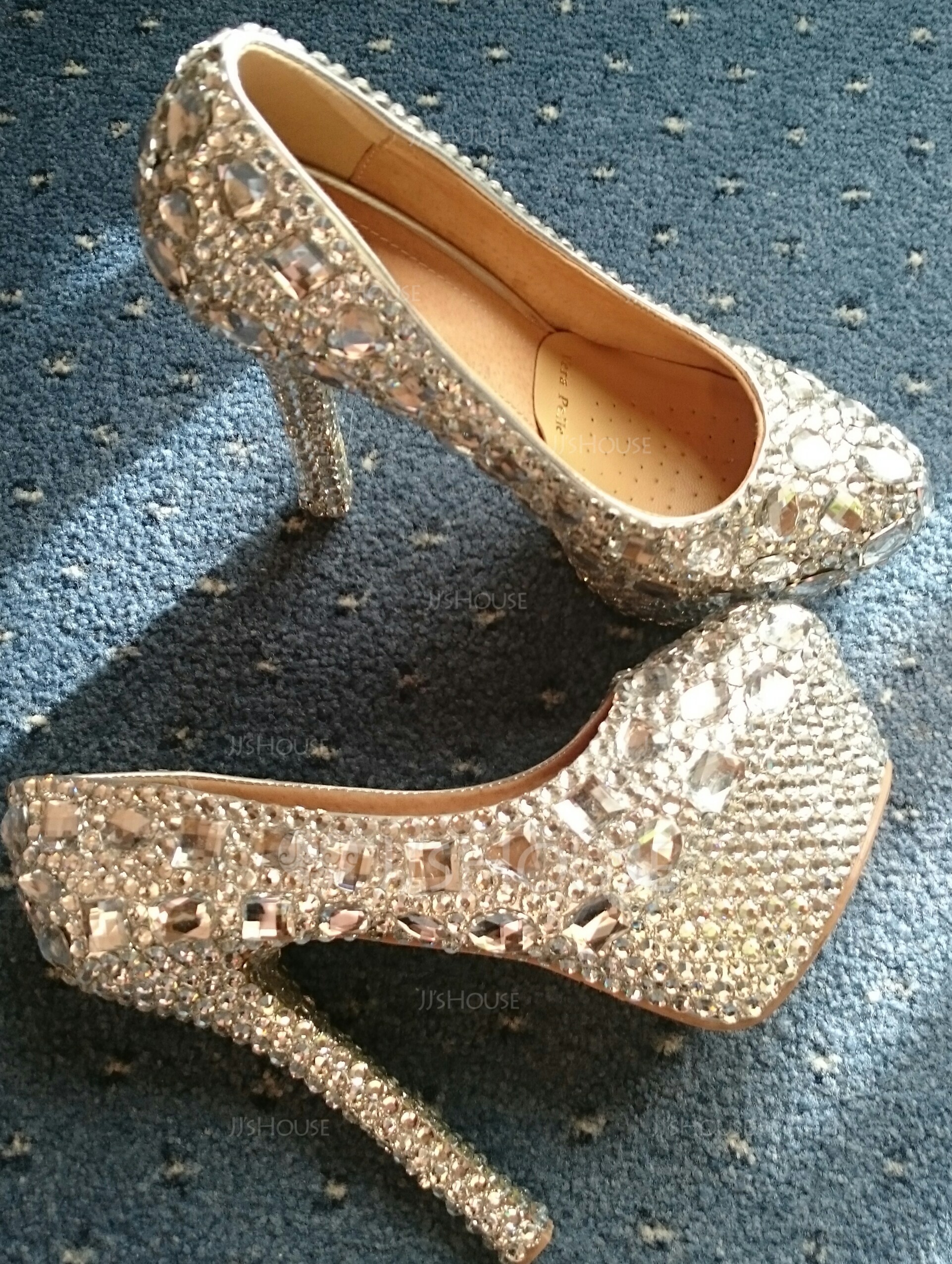 marlee-matt
2015-06-27 22:23:31
Letty
2015-02-22 04:25:20
I Ordered These BEAUTIFUL SHOES For A Special Affair...My Husband's Birthday Gala..."GO RED WITH FRED!" ❤ I CAN NOT WAIT For Them To Arrival...Will Post Again, After Their Arrival. THANKS FOR ALL THE AMAZING REVIEWS. From Your Comments & The Picture...I KNEW THESE WERE THE SHOES FOR ME!

gin911fire
2017-03-05 19:55:50
Perfect to picture and size was accurate!!!
nazir41313
2016-03-18 03:17:56
I orders my wedding shoes from here also and they are so stunning.
richieezy
2015-10-24 06:27:23
Fits perfect and looks amazing on my wife feet
Rosette
2015-07-13 22:05:10
Just got these shoes and I love them!!! They are a little tight but with one wear and bit of paper stuffing in the front of the shoe, they will be fine.I have previously bought 2 other pairs of shoes and a dress from JJ's and have not been disappointed. They also supplied glue, extra rhinestones, heel and toe cushioning. Thank you JJ's!!!
Emily
2015-05-26 01:26:51
Amazing!!Looks very gorgeous.The heel is very stable.