Women's Satin Stiletto Heel Closed Toe Pumps With Buckle
#48020
Product Reviews
Write a review
ana.dragomirescu
2015-01-12 17:42:59
Awesome shoes! I usually wear a size 38 but when I measured my foot, I was right at the max size for 38 so I ordered 39 and they fit great - a little loose around heel but no biggie as the straps keep your feet from slipping out of the shoe - which will be handy for walking around all day and dancing. The heels are a good practical height and are really comfortable. I paid for the 3-6 day delivery and it came within that time. :)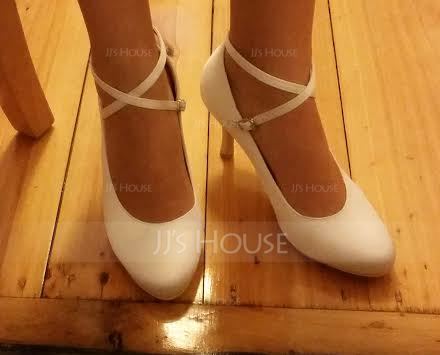 Sarah
2014-08-28 20:09:17
I LOVE these shoes! They are so comfortable! And the buckle is awesome! I didn't realise it from the pics, but this is the type of buckle where it's already buckled on the strap and there's a hook to hook the buckle into place, which makes putting on the shoes so much easier. Can't believe how comfortable these heels are!

lu.frida.wang
2017-11-27 17:49:26
The shoes are comfortable. I am satisfied with this purchase!
Elen.bg
2017-05-17 07:23:30
Oh they are so pretty. Simple but stunning! Fit perfectly
I have good experience in JJ-House online shopping. The shoes is good and comfortable. The delivery also ontime. Keep a good work JJ-House! :)
ivymajpruzmoat27
2016-02-29 16:50:19
fionasharkey
2015-10-12 13:56:11
The shoe has a lovely finish and exactly what I wanted. Be careful with the size. I'd recommend measuring the inside of a similiar shoe you own before purchasing. I'm usually a UK size 5 but had to go up a size :)
Nelly
2015-07-30 19:38:31
Quick delivery.my friend said she also loved these shoes,so I bought again.
Nada85eg
2015-03-25 04:33:24
Its more than perfect ! Thank u I loved it
liann_89
2014-06-19 07:18:48
I got these shoes to day :D i use size 38 normaly so I orderd 38 and they fit perfectly :D fast shipping also, so i'm looking forward to use them in my wedding the 30 of August =) From a happy girl in Norway =)